A New Album from the BRENT FISCHER ORCHESTRA
A Modern Big Band Interpretation of Pictures At An Exhibition by
Grammy®-winning Brent Fischer
Album Release Event : Tuesday, October 19, two sets 6:30 & 8pm
@ Herb Alpert's Vibrato, Los Angeles
Reserve here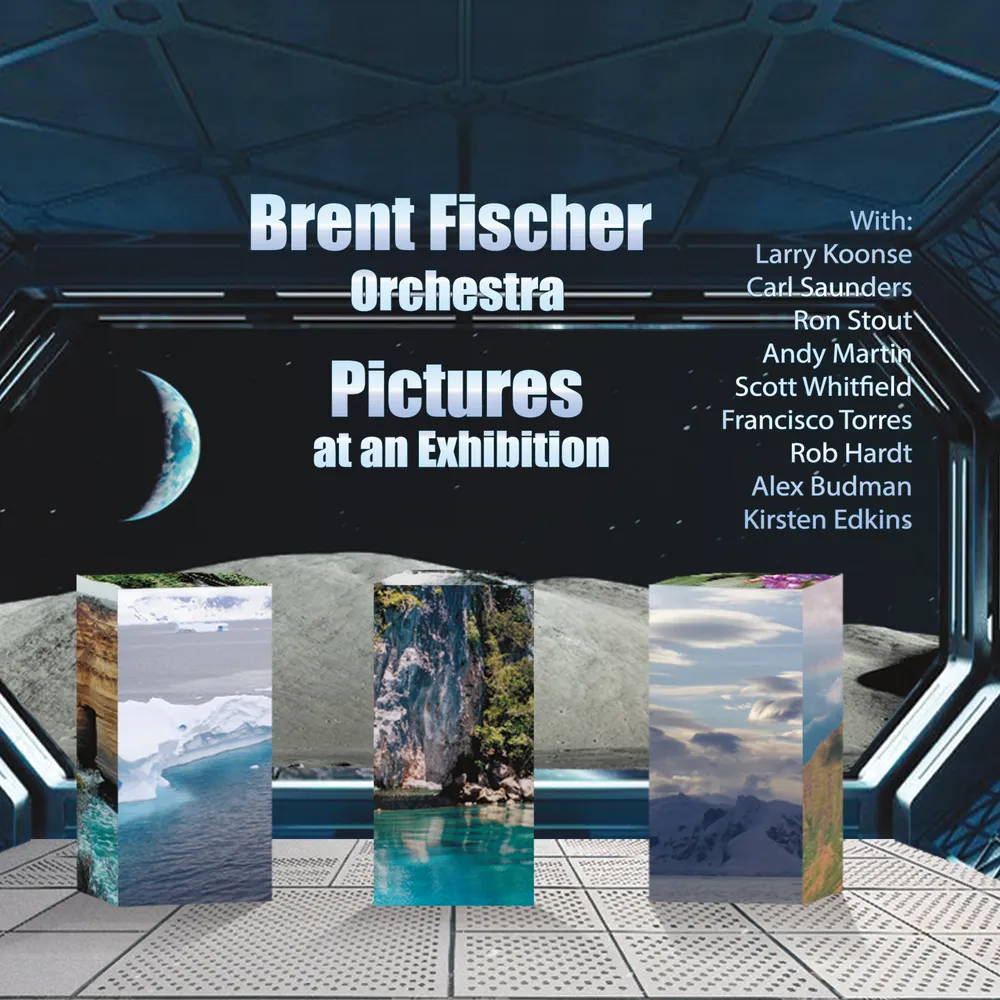 Los Angeles, CA October 05, 2021 -- PICTURES is the new album from Grammy®-winning producer, composer, and band leader, Brent Fischer with his modern interpretation, for big band, of Mussorgsky's classic: Pictures At An Exhibition.

PICTURES features Brent Fischer Orchestra (BFO) with twenty top-tier Los Angeles musicians to include:
Larry Koonse on guitar, Jamey Tate on drums, Ken Wild on bass, and Quinn Johnson on keyboard. The stunning Fischer woodwind and brass colors are played by Carl Saunders, Ron Stout, Michael Stever, Andy Martin,
Scott Whitfield, Francisco Torres, Rob Hardt, Alex Budman and Kristen Edkins.
PICTURES is arranged by Brent Fischer in ten movements and five interludes with approximately forty minutes of vibrant big band music. The Deluxe CD offers three additional bonus tracks, alternative studio takes featuring brilliant solos and sections. "I've changed the mood in Mussorgsky's movements and given them playful jazzy spin," says Fischer of the new titles: Garden (Tuileries) plays like a lush samba, In Chicks (Ballet , Woody Herman meets charles Ives.

Bazaar (Limoges) showcases Fischer wind choir that includes piccolo, alto flute, and contrabass clarinet. Then there's, Gateway (Gate) and LiftOff! -- two movements inspired by NASA's Gateway project (Moon's International Space Station) and mission Artemis 2024. "After all, that's why agencies like NASA exist - to help solve problems here on Earth and make our lives better. Smart phones and GPS exist thanks to international efforts in space," says Fischer.
The album art for PICTURES imagines an art exhibit on the moon!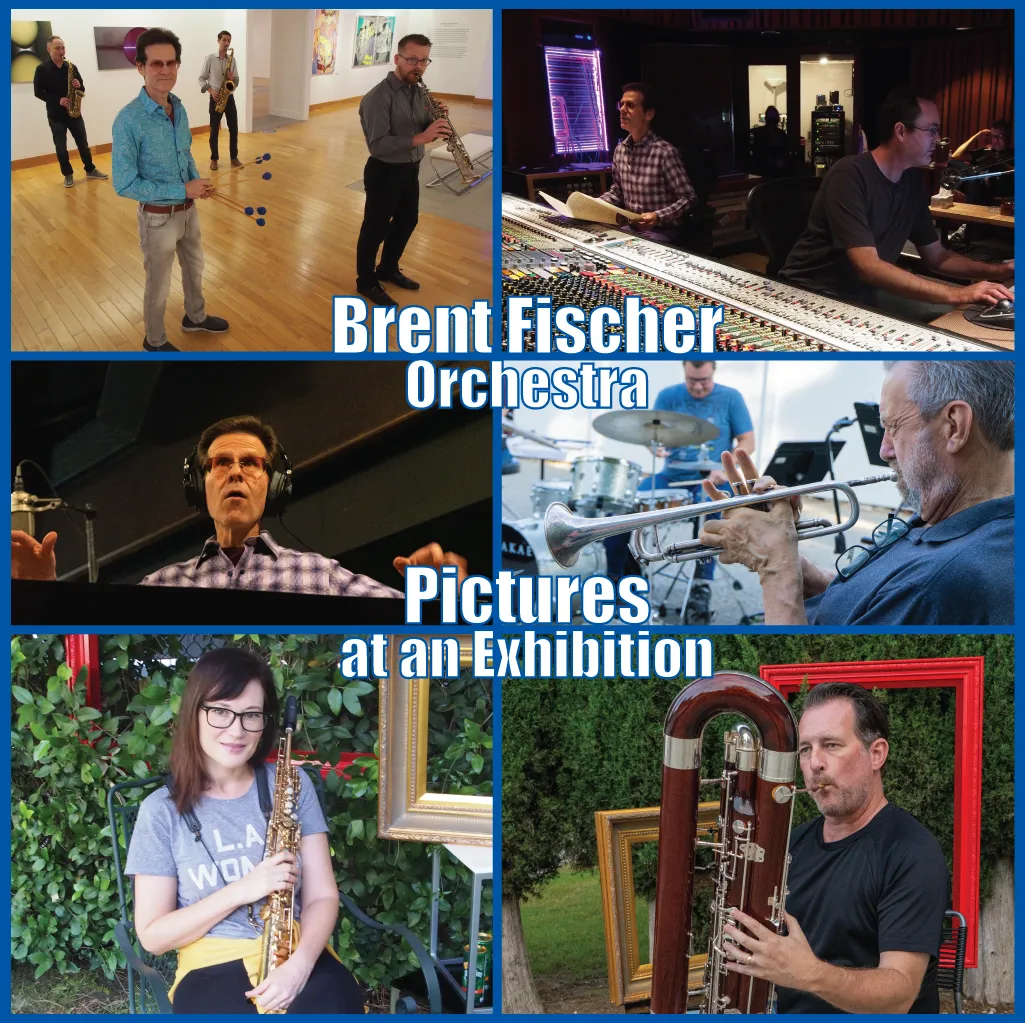 More than a century ago Mussorgsky was inspired by his friend's art exhibit when he wrote the suite for piano. Today social media technologies allow everyone to express themselves by posting pictures. "This music is meant to inspire self-expression and quest for joy and beauty and help us listen actively," says the arranger who now adds his 21st century big-band sketch to popularized versions of the classic by Ravel, Emerson Lake & Palmer and Isao Tomita.

PICTURES swings and exudes energy. It sparkles with Latin and Brazilian rhythms in a big band orchestration setting. In his arrangement, Fischer preserves the essence of the original masterpiece while staying firmly within the modern jazz idiom. Pictures sounds like an abstract expressionism, with layered imagery that's complex and colorful. You hear surprises at every corner —funk, rock, and blues rhythms blend in a meticulous and deeply personal expression that's Fischer sound. The Music is bold and up-beat throughout. Brent who directs the big band, plays his signature 6-mallet-grip vibraphone on select movements.
PICTURES is produced by Brent Fischer for Clavo Records and recorded at the Village Studios with engineer Matt Brownlie. Fischer talks about his inspiration for PICTURES. "As a percussion major at Northridge University, I had the opportunity to listen to the more active players in the band and the idea was hatched! Over the years, our live performances have inspired me to develop the arrangements you hear on this album today," says Brent who kept the musicians working during the Covid pandemic.
"There's nothing more exciting than hearing this music when you're playing in the middle or conducting in front of the Fischer ensembles. The next best thing is to hear the recording! My PICTURES is rooted in American jazz, and inspired by images of nature from my travels, architectural photographs from my home (book: Preserving Los Angeles) and my big passion: space exploration. Like music, science aims to improve lives and encourages collaboration. Music and math are both universal languages that decode nature and human emotions. There's something for everyone in this music, young and young at heart," adds Fischer.
Join the Pictures Challenge! To engage fans, Fischer invites listeners to curate and share their own exhibit on social media as they listen to the album. "Let your imagination run wild according to how the music moves you. I like to imagine the future while respecting the past. This music helps us listen more actively, create depth, delight, and dialogue," says Fischer.
Hashtags for social media: #BrentFischerOrchestra #PicturesAtAnExhibition, #MyPictures
"In his Pictures Brent Fischer…presents a modern and uniquely expressive interpretation…all truly carrying on the Clare Fischer tradition…Brent Fischer ably translates Pictures into a new big band aesthetic…retaining the character of the original within the framework of a jazz environment."
--Don Heckman
# # #
PICTURES is available on CD at official sites BrentFischer.com and ClareFischer.com and other major retailers like, iTune, and Amazon. To receive more press photos and/or advance music link for reviews or articles, contact us.
Thank you.
About Brent Fischer
Grammy®-winning producer, composer, arranger Brent Fischer credits his legendary father, Dr Clare Fischer, for creating a rich harmonic and orchestration palette that has become the Fischer brand. A multi-instrumentalist (bass, vibes, keys, drums), Brent moves easily between Jazz, R&B, Pop or Symphonic works. Brent's credits appear on over 30 million albums to include: Usher, Michael Jackson, Raphael Saadiq, Prince, Sheila E, Al Jarreau, Toni Braxton, Usher, Dianne Reeves, Elvis Costello & The Roots. "When artists give me a simple G Major Triad, I like to wrap it in a velvety timeless orchestral beauty," says Fischer. In 2016 Brent arranged and orchestrated the Grammy® R&B Song and Record of The Year for D'Angelo, titled, "Really Love" from his album "Black Messiah" where Brent is also listed as one of the producers. In 2019 Mr Fischer collaborated with Root's drummer, Questlove on a first ever Prince's estate-approved concert series presented by Live Nation Urban dubbed: 4U: A Symphonic Celebration of Prince which played in select theatres in US and Europe. The Father-and-son's shared musical journey expanded over three decades before Dr Fischer's passing in 2012. Brent Fischer directs the Fischer ensembles (quintet, big band, Latin Jazz Group, Orchestra) and has produced and directed nine Clare Fischer albums, including the Grammy®-winning ¡Ritmo! (2012), and "Pensiamento for Solo Alto Saxophone and Chamber Orchestra" from Music for Strings, Percussion and the Rest (2013). Continuum (2011) received a Grammy®-nomination. Brent produced Pacific Jazz (2014), and ¡Intenso! (2016), featuring the Clare Fischer Latin Jazz Big Band with special guests Sheila E, Luis Conte and vocal prowess of Roberta Gambarini. PICTURES is the new album arranged, directed, and produced by Brent Fischer featuring his orchestra due out September 24, 2021 on Clavo Records. Pictures features 15 movements and approximately 44 minutes of vibrant big band music featuring twenty-two (22) of Los Angeles' brilliant musicians to include Larry Koonse, on guitar, Jamie Tate on drums, Quinn Johnson on keyboard. The stunning Fischer woodwind and brass colors are played by Carl Saunders, Ron Stout, Michael Steever, Andy Martin, Scott Whitfield, Francisco Torres, Rob Hardt, Alex Budman and Kristen Edkins.

http://www.studioexpresso.com/profiles/brentfischer.htm
About Clare Fischer 1928 – 2012
Grammy®-winning versatile pianist, composer and arranger Dr Clare Fischer crossed freely from jazz to Latin and pop music, working with such names as Dizzy Gillespie, George Shearing and Natalie Cole as well as Paul McCartney, and Prince. "I'm not just jazz, Latin or classical. I really am a fusion of all of those," Fischer described his sound in an interview with LA Times. It's been said that regardless of genre, Fischer's arranging and composing invariably possessed a rich harmonic palette, one that attracted and influenced notable musicians - Herbie Hancock, and Poncho Sanchez, among them. Fischer music has reached millions in the past half century through albums from Paul McCartney, Prince, George Duke, Al Jarreau and many others. More than just a tribute to Clare Fischer, PICTURES is a continuation of Dr Fischer's legacy of timeless music carried forth into the 21st century by his son, Brent Fischer ….