studioexpresso & Trans Audio Group Present
Modern Composition Tools & Tips
featuring Award-winning Composers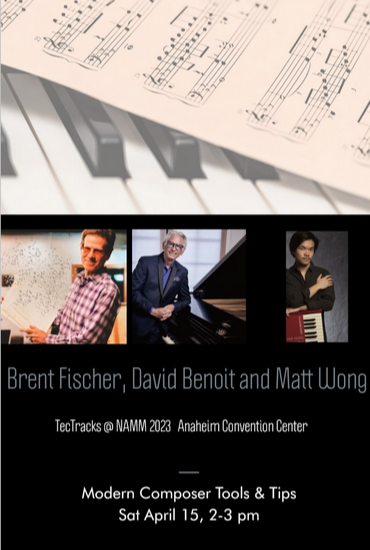 DAVID BENOIT
David's profile @ studioexpresso

BRENT FISCHER
Brent's profile @ studioexpresso ( Prince, D'Angelo, Elvis Costello & The Roots, Usher)

MATT WONG
http://www.studioexpresso.com/profiles/mattwong.htm (Jon Batiste)
Saturday April 15, 2-3 pm 2023
register here (NAMM Link)
TECTracks @ NAMM
Anaheim Convention Center
Meet our speakers who will discuss today's composition tools that help composers make better decisions with higher efficiency. Learn the advantages of creating full mock-ups of your works using notation software that helps put orchestration, color and timbre earlier in the compositional process. We will discuss tools like Finale (Make Music), Sibelius (Avid), ILIO's Vienna Symphonic Library, and others. Our composers will compare notes on their writing instruments of choice, and reveal collaboration and communication tips
and more...
Join us for an inspiring afternoon at NAMM and recharge for 2023!
studioexpresso's Claris Sayadian-Dodge and Brad Lunde of the Trans Audio Group will co-moderate.
Subscribe to monthly eZine and future events here!

Visit
Visit composer links to hear music - 'Sad About Nothing Blues' by Brent Fischer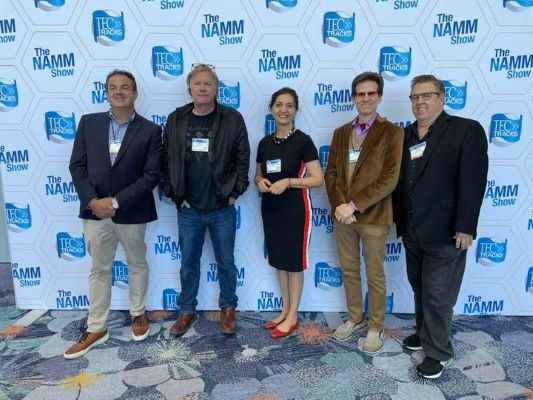 TEC Tracks @ NAMM Production Pearls & Atmos Dreams 2022 l-r: Zev Feldman, John Wooler, Claris Sayadian-Dodge, Brent Fischer, Brad Lunde.
Presenters & Moderator
Brad Lunde founder and president of TransAudio Group, the premier distributor of high-end recording gear to the US and Worldwide. TransAudio helps the industry's inventors build a business through product development working with top level end users and selling to the trade. TransAudio product lines include the best of the best: A-Designs (USA), ATC Loudspeakers (UK), Auratone, Bettermaker , Geoffrey Daking & Co (USA) Drawmer (UK), Hakan, Latch Lake, Mutec, Pete's Place Audio, Sabra-Som, Sound Anchors (UK) Subwoofer Pros and Tube-Tech (Denmark), to name a few

Claris Sayadian-Dodge founded studioexpresso.com in 2000, a production resource for developing artists. Dodge is the publisher and chief editor of studioexpresso's monthly eZine for the recording industry and looks after an Award-winning roster of producers with the affiliated C Artist Management. Past positions include: Management III, PMK, Rogers & Cowan Public Relations, Ocean Way studios, Prairie Sun Recording and studio bau:ton. Claris supports Grammy's MusiCare and sits on the board of a Film Foundation dedicated to documentaries on human rights. She has a BA degree in business and continues to create professional networking events to raise awareness and funds for art and music education programs and worthy causes.
# # #

Read Matt Forger Review Of 2013 Sessions at HotZone
Past Events
studioexpresso at TEC Tracks 2022
Production Pearls & Atmos Dreams
studioexpresso at TEC Tracks 2020
Producing The West Coast Jazz feat
studioexpresso at TEC Tracks 2019
DNA of The Legend: PRINCE
studioexpresso at TEC Tracks 2018
All Aoubt That Bass
studioexpresso at TEC Tracks 2017
Producing for World Audiences & Cross Over Artists
Mixers On Immersive Environments
studioexpresso at TEC Tracks 2016
Orchestrating A Jazz Session: Releases With Big Buzz
studioexpresso HotZone at NAMM 2015
Production - Studio and Stage, to TV and Film: That Killer Drum Sound
studioexpresso HotZone at NAMM 2014
Studio 2 Stage: Tips from The Top: Music for TV and Film - MD's In The House!
studioexpresso Hot Zone at NAMM 2013
Session Management: Editing and Mixing Secrets
studioexpresso at Mix Open Golf Tournee
Monday, June 25, 2012
studioexpresso Presents The Art Of Producing Masters
A Panel of audio professionals discuss label-friendly production trends
NAMM "Hot Zone" 2012

studioexpresso Presents Rock, Record and Roll!
A Panel of audio professionals discuss label-friendly production trends
NAMM "Hot Zone" 2011
studioexpresso Hosts Audio Underground 007
Presented by Trans Audio Group & studioexpresso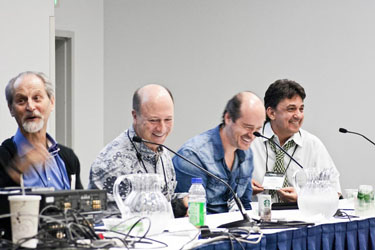 studioexpresso & Trans Audio Group Present At HotZone, NAMM 2014
Speakers L-R: Eddie Kramer, Matt Wallace, Rafa Sardina, Niko Bolas