MUSO.AI Re-Invents Music Credits
Easy-to-Use Integrated Mobile Platform Founded by Music Industry Leader Jay Baumgardner

By Claris Sayadian-Dodge
June 2022 for studioexpresso

NRG Recording Studios owner, producer, mixer/engineer Jay Baumgardner (P.O.D., Bush, Papa Roach, Drowning Pool, Godsmack) was too familiar with a nagging problem shared by his close friends and clients. How to control your work's accurate credits on streaming sites? The idea to improve the situation was first hatched by Baumgardner in 2007 in his studio in North Hollywood, home to some of the biggest artists in the industry to include: Linkin Park, Beyoncé, and Jay-Z. "We're fixing the industry's music credits problem by verifying the data with creators themselves so they can receive the credits and missing payments they deserve," says Baumgardner.

Today 95% Of music collaborators are still not properly credited on popular streaming sites. Even decades into the digital age, outdated systems and antiquated crediting procedures continue to prevent musicians, songwriters, producers, and other contributors from properly getting recognized and paid.
Enter
Muso.A
I. It is the world's first verified music credit platform. Music professionals across the industry can claim their profiles, clean up legacy credits, correct metadata, and share those updates with the platforms that matter most, and it's FREE! Paid subscribers can unlock in-depth credit analytics, daily and lifetime stats, and more. It's available on iOS and Android with monthly subscription services beginning at $9.99. "We recently announced a new subscription plan built with businesses in mind. Muso.AI Pro gives users access to analytics for one profile, but now, with Pro+, labels, publishers, and management companies can get full access to their own custom roster of industry professionals, says Nina Navarro, SVP of Marketing. We asked Navarro about other applications. "As far as gear, the vision has always existed to capture metadata to catalog the equipment used during recording or editing. Those tools are in development and will be ready to deploy when the time is right," she says.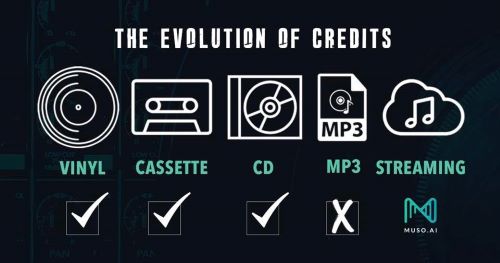 Unlike other apps out there, Muso.AI delivers everything you need to manage credits, showcase your discography and elevate your music career in one simple, integrated, mobile platform that's easy to use.
How Easy? Muso.Ai already has 3 million profiles in its database, waiting to be claimed! After setting up an account, you verify your identity, claim your profile and you're on your way to fix legacy credits!
The modified data is then shared with Muso.Ai's growing list of data partners, and anyone using services like
Airgigs
,
Campsite
,
Music Story
,
United Market
,
EngineEars
, etc. You can incorporate your verified Muso.AI credits into their portfolio, profile or CV. New partnerships with business-solution services like EngineEars and United Market give members of both platforms the option to add their verified credits to their profile with a Muso.AI link. The user pays nothing for this data—they just need to log in and start claiming their credits and they can sync them to any participating data partners' sites.
The engine is built to collect data from various industry data sources and merges them together through an A.I. enrichment process. The analytics feature aggregates catalog data from the top streaming services and social channels including Spotify, Apple Music, TikTok, SoundCloud, Shazam, and others, so users can see and share their cross-platform lifetime impact.
Muso.AI delivers stats on your entire catalog at your fingertips, refreshed daily, and ready to view at any time. Credits changes are validated by artists and master rights holders. Verification for artists is done by logging in with a social media account tied to the artist, showing that you have access to the artist's page.
The folks at Muso.AI have secured an official partnership with Sound Exchange and working on others. "You'll have to stay tuned on some of our plans, but we can say that there are a few other conversations in the mix that we're excited to talk about soon," adds Navarro.
Muso.AI helps musicians claim missing credits, so they can monetize their work. And, that's good news for all you creators!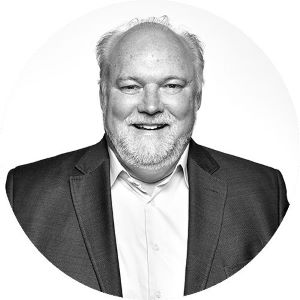 studioexpresso Interview with Award Winning Record Producer, Jay Baumgardner
Jay, you've been a mixer/producer and studio owner with an impressive client list for decades. As music has migrated to streaming platforms, most creators understand your frustration with keeping accurate credits.

SE: When did you have the idea and who did you reach out first to look for solutions?
JB: In 2007, I was shopping the idea around to a few people. No one knew what I was talking about. I even contacted the guy running iTunes at the time, and he told me that if this was so important to me, I should start my own company. I thought, "Okay."
Sometime later, I met Aaron Kaufman at one of Steven Slate's events. He and I talked about the idea for about a year, and then I met Kyran de Keijzer in 2012—he had joined NRG as an engineer. That's when everything started firing, and the company launched in 2014.
SE: How hands-on have you been with the developers?
JB: Considering I have no background in tech, at first, I was bouncing my ideas through Aaron and Kyran and learning our capabilities and limitations as I went. Now that I've been sitting in on calls with our lead developers for several years, I'm much more educated on how to communicate with the dev team in a way that we both know what each other is talking about.
SE: It looks easy enough to input via my cell phone -- for your own credits, are you DIY yet?
JB:: My Muso.AI profile was the test profile used in development, so my legacy credits were primarily managed on the back end in the early days. Any new credits that I have now, I log in to fix and manage them myself.
SE: What's one feature that has evolved since its inception?
JB: Something that many don't know is that Muso.AI was originally developed to capture credits at the moment tracks were being laid down. But we soon realized we had to shift our focus to fixing the legacy data credits already out there. There is just so much info missing or duplicated, and we're uncovering more music metadata issues than we ever knew existed. In the future, we'll integrate the original vision, but first things first. And that's updating the current record.
SE: As producer manager, I'm excited to bring MUSO.AI to our studioexpresso community. Congrats Jay!
JB: We'd love to partner with studioxpresso! Your reach and credibility is priceless when it comes to educating people about the industry's metadata problem and what we're doing to fix it. We'd love your help letting your subscribers know that anyone with credits can join for free and start claiming and fixing their catalog today.
SE: Music to my ears. Thank you!

NRG official
studioexpresso NRG Spotlight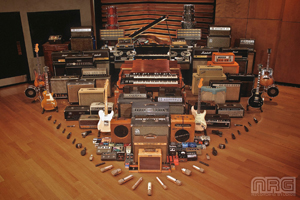 FYI, TIDAL has added access to extensive artist credits for tracks and albums, reminiscent of album liner notes. The data includes in-depth descriptions and credits for composers, lyricists, engineers, musicians, vocalists, instrumentalists, mastering, production, mixing, album cover photographer and more.